You may have heard some people say it's better to rent than buy a home right now. But, even today, there are lots of good reasons to become a homeowner. One of them is that owning your home helps you build wealth and is typically viewed as a good long-term investment.
Homeownership Builds Wealth Regardless of Income Level
You may be surprised to learn homeowners across various income levels have a much higher net worth than renters who make the same amount. Data from First American helps illustrate this point (see graph below):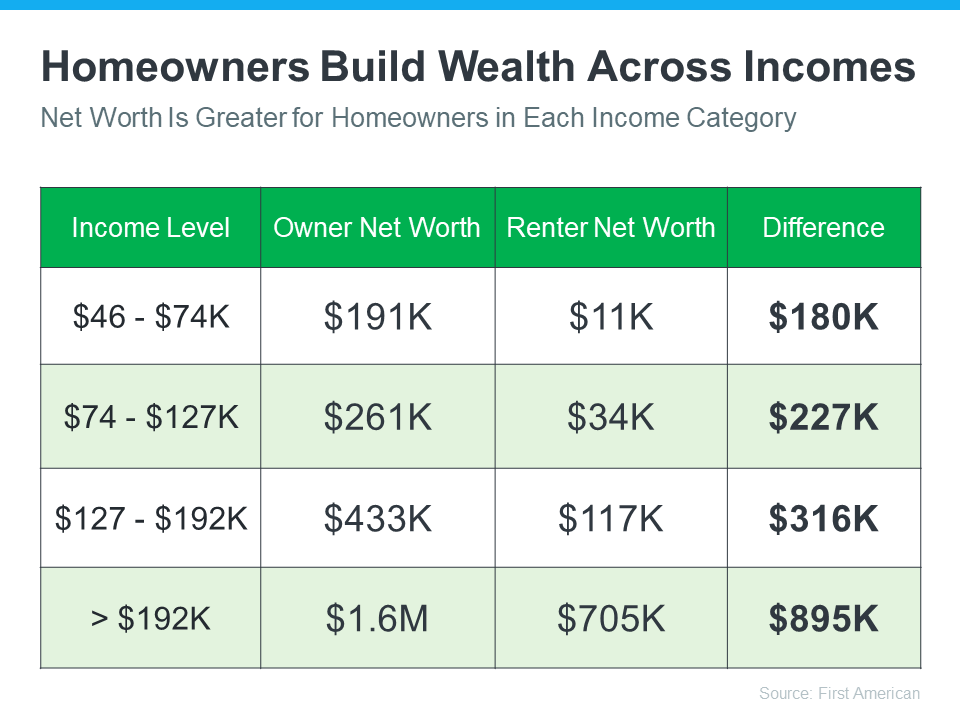 What makes wealth so much higher for homeowners? A recent article from Realtor.com says:
"Homeownership has long been tied to building wealth—and for good reason. Instead of throwing rent money out the window each month, owning a home allows you to build home equity. And over time, equity can turn your mortgage debt into a sizeable asset."
Basically, the wealth you accumulate when you own a home has a lot to do with equity. As a homeowner, equity is built up as you pay down your loan and as home prices appreciate over time. Mark Fleming, Chief Economist at First American, explains how this same benefit isn't true for renters in a recent podcast:
"Renters as non-homeowners gain no wealth benefit as home prices rise. That wealth actually accrues to the landlord."
Why Renting Doesn't Make Sense
Yes, mortgage rates have risen lately but so has the cost to rent an apartment. In fact, apartment rental fees have gone up dramatically and are still rising. But, if you're a renter you already know that because you're living it!
In fact, even at current mortgage rates, you may still qualify to buy a home for quite a bit less than it costs to rent. And the beauty of a mortgage is that your monthly costs never go up, so you can plan and budget for the monthly payments with peace of mind. For more information, we recently wrote a blog that goes into detail about how owning your home is an investment in your future.
Before you decide to sign another rental agreement, now is a good time to think about whether it would be better for you to buy a home instead. After all, does it really make sense to pay your landlord's mortgage when you could be paying your own and building equity that you can use?
Bottom Line
The best way to figure out what makes sense for you is to have a conversation with a real estate expert you trust. At Bay Shores Real Estate we can walk you through the benefits that come with owning a home to determine if that's the right next step for you. If you're not sure whether to keep renting or buy a home, know that owning a home, no matter how much money you make, can help build your wealth. Let's connect now to get you started on the path to homeownership.