To sell your house this spring, it may need more preparation than it would have a year or two ago. Today's housing market has a different feel. There are more houses for sale than there were at this time last year, but inventory is still historically low. So, if a house has been sitting on the market for a while, that's a sign it may not be hitting the mark for potential buyers. That's why boosting your home's curb appeal is so important. Even in an unsettled market, houses that are updated and priced at market value are still selling fast. 
Curb appeal is a term used to describe the general attractiveness of a house from the sidewalk to a prospective buyer. Today, homes with curb appeal that are presented well are still selling quickly, and sometimes over the asking price. According to Danielle Hale, Chief Economist at realtor.com:
"In a market where costs are still high and buyers can be a little choosier, it makes sense they're going to really zero in on the homes that are the most appealing."
With the spring buying season just around the corner, now's the time to start getting your house ready to sell. And the best way to determine where to spend your time and money is to work with a trusted real estate agent who can help you understand which improvements are most valuable in your local market.
Curb Appeal Wins
One way to prioritize updates that could bring a good return on your investment is to find smaller projects you can do yourself. Little updates that boost your curb appeal usually work well. Investopedia puts it this way:
"Curb-appeal projects make the property look good as soon as prospective buyers arrive. While these projects may not add a considerable amount of monetary value, they will help your home sell faster—and you can do a lot of the work yourself to save money and time."
There are several things you can do that can increase the curb appeal of your house that are relatively inexpensive, such as a new paint job, cleaning up landscaping outside, power washing your house's exterior, cosmetic updates like replacing small things—outdated light fixtures or old numbers on a mailbox. These low-cost projects help your house stand out and create a great first impression with buyers.
Though not as easily measured as something like square footage, curb appeal plays an important role in property valuation. A house that has ideal curb appeal from the start may be valued higher than a house of the same approximate size, bedroom range, and location, simply because it will appeal more to a prospective buyer. If a buyer's first thought is on the overwhelming amount of seemingly small tasks that must be accomplished, they may lose interest in the sale.
We recommend working with a real estate professional to designate which projects you can tackle around your house that will appeal most to buyers in your area.
Not All Updates Are Created Equal
When deciding what you need to do to your house before selling it, remember you're making these repairs and updates for someone else. Prioritize projects that will help you sell faster or for more money over things that appeal to you as a homeowner.
The 2022 Remodeling Impact Report from the National Association of Realtors (NAR) highlights popular home improvements and what sort of return they bring for the investment (see graph below):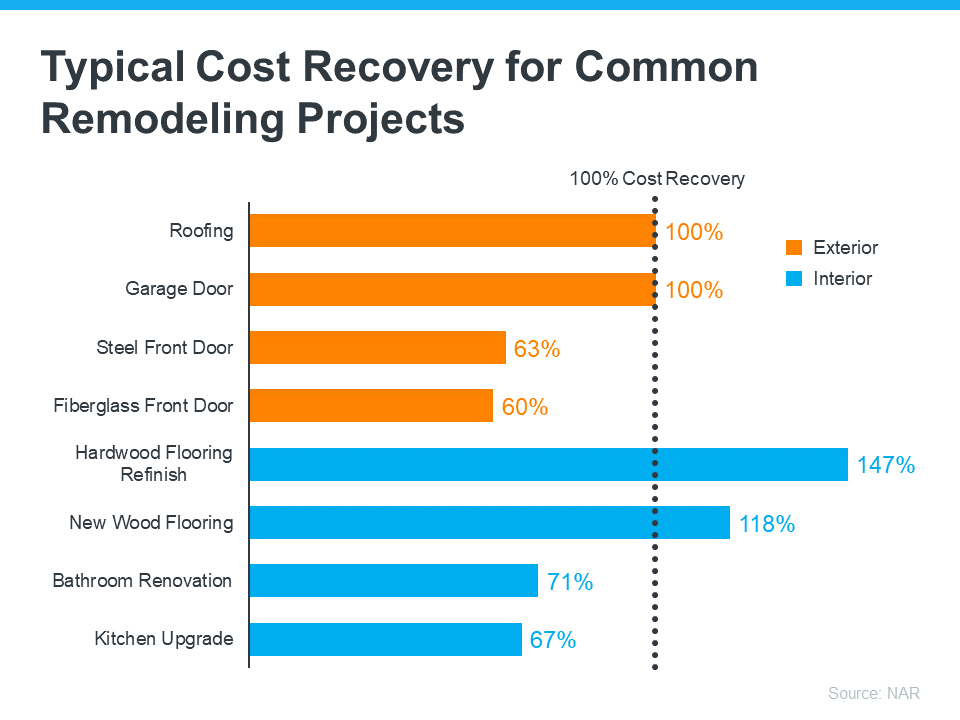 According to Bankrate.com the best renovations to add value to your house are:
Replacing the Garage Door
Selectively Adding Stone Veneer to parts of the Exterior
Kitchen Update and Remodel
Siding Replacement
Window Replacement
Deck Refinishing
The right remodeling projects will boost your home's worth and when you go to sell your house, buyers are likely to pay more for a clean, well-kept property with modern updates that's move-in ready. Lean on your trusted real estate advisor for the best advice on the updates you should invest in. They'll know what local buyers are looking for and have the latest insights into what your house needs to sell quickly this spring.
Bottom Line
As we approach the spring selling season, now's the time to get your house ready to sell. I have extensive experience in buying and selling real estate, but also in renovation, new construction, and staging. I'd love to use that expertise to help you determine how to get the best value for your house! Let's connect today and we'll be happy to educate you about which updates make the most sense for boosting your home's curb appeal.