The recent changes in home prices are top of mind for many as the housing market begins gearing up for the spring selling season. These market changes have potential house sellers wondering what's going on with home prices. On top of that it can be hard to navigate misleading headlines and confusing data. Here's what you need to know about today's home prices.
Local price trends still vary by market. But looking at national data, Nataliya Polkovnichenko, Ph.D., Supervisory Economist at the Federal Housing Finance Agency (FHFA), explains:
"U.S. house prices were largely unchanged in the last four months and remained near the peak levels reached over the summer of 2022. While higher mortgage rates have suppressed demand, low inventories of homes for sale have helped maintain relatively flat house prices."
Month-over-month home price changes can be seen in the chart below. The data also shows that price depreciation peaked around August. Since then, any depreciation has been even milder. In other words, today's home prices aren't in a freefall.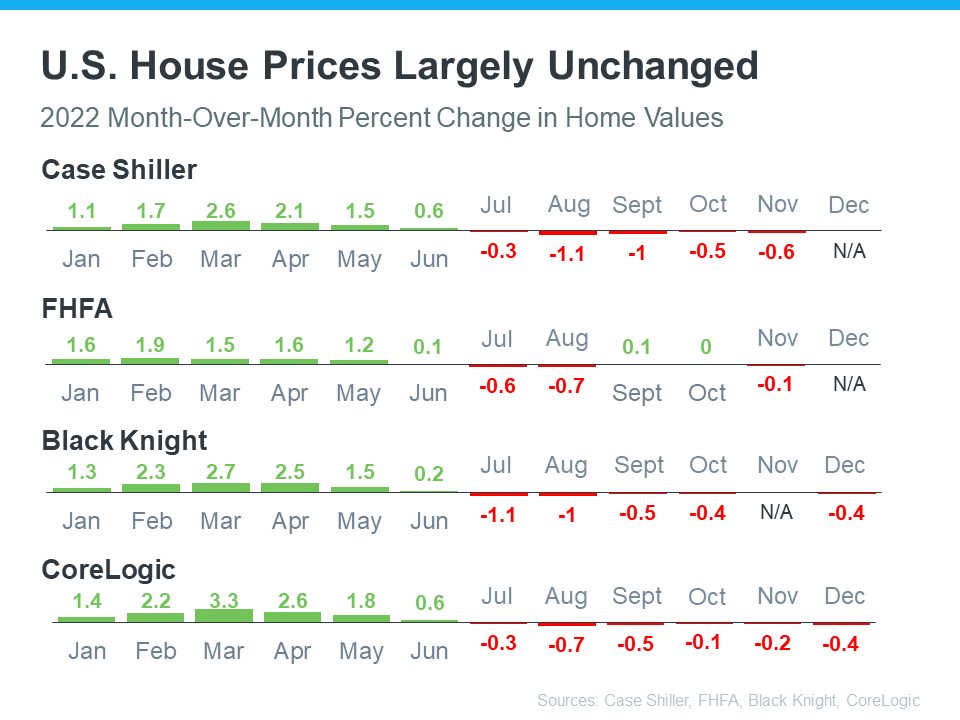 Rising interest rates exerted force on the housing market after home prices hit record highs across the nation in 2022. While rates did level off through January, causing some homebuyers to re-enter the market, a recent uptick in rates indicates the market is going to remain flat. Many economists continue with mixed opinions about whether home prices will continue to decelerate throughout 2023.
One reason for this is that across the country the overall housing supply remains limited, as those who bought homes in the last few years at low mortgage rates are staying where they are. Additionally, new home construction dropped in January for the fifth consecutive month. This low inventory has prevented prices from dropping off markedly, making homes difficult to buy for many people, especially first-time home buyers.
Here in New England
Locally, some experts predict that due to low inventory, home prices won't drop in 2023. While others believe that due to the higher interest rates, sellers will lower their prices to current levels. As the Federal Reserve continues its efforts to tamp down inflation by increasing interest rates home values, and consequently home prices, are expected to go down by 5% to 10% due to unaffordability.
Alison Socha, 2023 president of the Greater Boston Association of Realtors, said the region's real estate market is one of the strongest in the country, but the runaway price growth we've seen over the past few years probably won't continue.
"We are looking at a more level set in our market," Socha said. "People have to be careful when they see news headlines about real estate, because real estate is very local. What's happening across the country is not always what's happening here. It's similar to the weather. When you wake up in the morning, what weather forecast do you look at? The national one or your local one?"
The market has changed and it's more important than ever to be very selective about the professionals you work with. Being an expert matters again, and you've got to hire the right company. If you're looking to buy a new home it's imperative to work with realtors and mortgage companies that can get you advantages over other buyers.
What Does This Mean for You?
If you currently own a home, you may be concerned about even the smallest decline in prices. But keep in mind how much home values grew over the last few years. Compared to that growth, any declines we're seeing nationally are likely to be minimal. Selma Hepp, Chief Economist at CoreLogic, shares:
". . . while prices continued to fall from November, the rate of decline was lower than that seen in the summer and still adds up to only a 3% cumulative drop in prices since last spring's peak."
It's also important to remember that every local market is different. That's why it's essential to lean on an expert for the latest information on home prices in your area if you're planning to make a move this spring.
Bottom Line
At Bay Shores Real Estate we have a solid track record of helping people sell their houses, and getting buyers into the home of their dreams. We are a partnership of professionals, each dedicated to helping people find the life they love. One with more free time, less financial stress, more beauty, and less worry. Our firm brings all of the key real estate-related services discerning clients need, together under one roof. Whether it's for your primary home, your vacation property, or your B&B rental, our team of professionals is here for you. That's what Bay Shores Living is all about.
To get a complete understanding of what's happening with home prices in our market and how they could impact your goals, let's connect today.